+ the Invisible Cube, the Cabin, and the UFO!
Once, when I was on an air plane, flipping through one of their magazines, I came across a wonderful article, which I still can't forget. It was about the Treehotel. This is a hotel in the shape if a bird's nest perched on a tree and situated the hart of Swedish woods. Maybe it's only because I am particularly partial to birds, but, in my opinion, this is the most brilliant idea for a hotel I've come across so far! I am sure that as kids, most of us climbed trees and built treehouses, so now, this hotel actually makes it possible to relive the dream of childhood - to spend a day on a tree in a bird's nest!
Actually, there isn't just the bird's nest that they have.
There is a cluster of four hotels, all set high in the trees!
The other hotel is a giant cube with mirror surface. It reflects the surrounding forest so the cube is virtually invisible! So that's the "invisible" hotel!
The third one has the shape of a cabin, and the fourth one is a UFO hotel, the latter, as you may have guessed, in the shape of a giant flying saucer!
I also checked the prices! You can spend a night in one of these, all included (breakfast, dinner, supper, TV, Internet, a short tour around the woods, and some other features) for about $650 (~4400 SEK).
So which one would you pick?
I would pick the bird's nest, though the interior of the invisible cube is, in my opinion, by far the loveliest!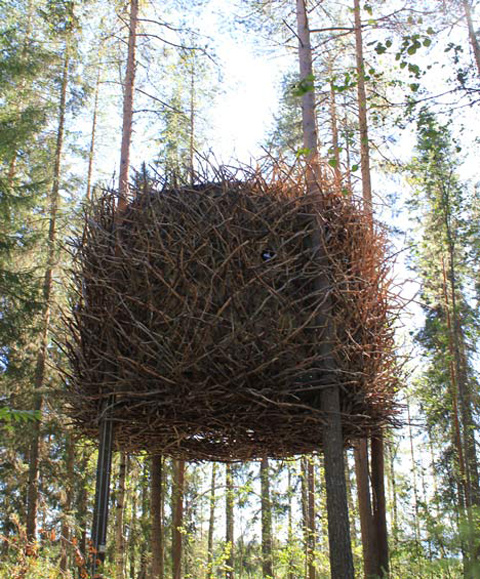 A glimpse at the nest's interior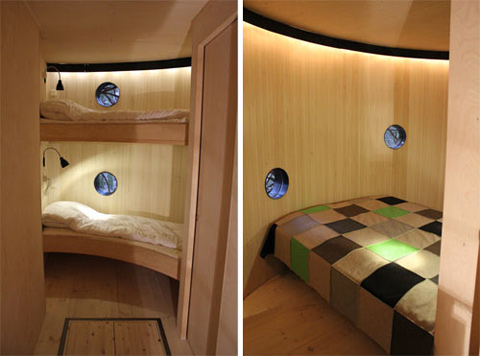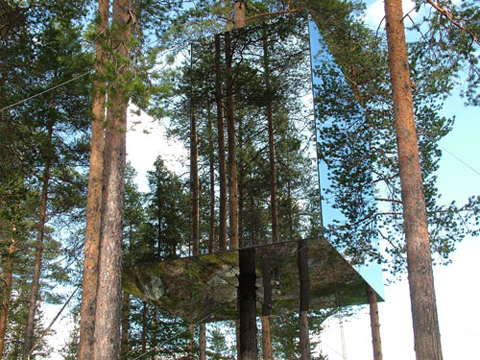 The Interior of the Cabin:
Actually, they are all amazing!